Operational and Compliance Update

updated 12/10/2020
Working closely with local and state health officials, our team is developing a multi-faceted, phased approach to the reopening of the club.  The gym is fully open for normal operating hours 7 days per week, closing at 9:30 pm each weeknight.  This complies with Massachusetts regulations and the Stage 3 reopening plan, which includes a requirement MASKS MUST BE WORN AT ALL TIMES IN THE GYM (effective 12/13/2020).
Social distancing and required temperature testing will continue to be practiced throughout the facility, including 14′ spacing in the group fitness room PLUS mask-wearing. The safety of our staff, members, and community is our top priority as we operate during the COVID-19 pandemic. Our team will follow the State of Massachusett's directives related to our allowed reopening and required mandates.  We will work to keep members up-to-date with news and developments via email, our website, and our club's Facebook page.
MASKS MUST BE WORN AT ALL TIMES IN THE GYM FOR ALL TYPES OF WORKOUTS

in order to meet the State of Massachusetts's social distancing requirements.
UPON ARRIVAL
– No masks, no entry.  Additionally, masks must always be worn throughout the gym and in all workout areas.
– Please be patient during check in.  Every member MUST check in with the Desk prior to starting their workouts.
– All Members must submit to Temp checks, signing waivers and daily COVID questions.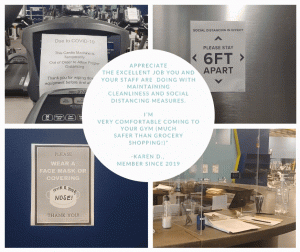 INDIVIDUAL RESPONSIBILITY   
We are an incredible wellness community and rely upon each individual to do their part in ensuring the wellbeing of our community.  We all have a personal responsibility to help protect one another and our community.  Please abide by traffic direction inside the gym, show courtesy and awareness for others regarding distancing, and wipe down equipment after each use.  Additionally, follow the safety guidelines set by the CDC, including (but, not limited to):
Stay home if not feeling well, have a temperature, or sick with any symptoms – even a simple runny nose or cough.
Self-quarantine at home if you have been exposed to anyone with COVID-19.
Practice good hygiene and regularly wash your hands.
Wear a face mask.  NO MASK, NO ENTRY.
Bring a water bottle and a sweat towel.
Wipe down equipment before and after each use, including machines, weights, mats, and any other touch surface.  
SAFETY PRECAUTIONS
Stow Fitness Center is implementing several resources to ensure ongoing cleaning and sanitization practices.  We have retained an external cleaning company to execute the most extensive, cleaning, and sanitization processes prior to reopening. Regular, thorough cleaning will be conducted each night.
Additionally, our staff will conduct increased, thorough cleanings throughout all areas of the club and gym equipment using disinfectant effective against COVID-19. These products will include high-concentration alcohol and hydrogen peroxide.
We have taken several steps to strengthen our policies and procedures to help keep you and our team members safe! To name a few:
Sanitization stations throughout the gym floor: There will be numerous cleaning stations throughout the facility with an alcohol-based cleaner.  Additionally,

hand sanitizer will be readily accessible for members in bathrooms, at the front desk, in the group fitness room, in the cycling studio, and in other spaces around the facility.

Physical distancing on Cardio Deck: To allow for physical distancing, members are to leave at least one cardio equipment empty between each person.  Specifically, if an individual is running on a treadmill, there must be at least one treadmill empty between individuals working out the equipment.  Additionally, some pieces of equipment may be temporarily marked "unavailable" to create additional space.
Temperature check for staff and members: Each individual who enters the gym must have his/her temperature taken before granted access.  Anyone with a temperature over 100.4-degrees will not be allowed access to the gym.  
Installation of touchless water station:  A touchless water station has been installed to be used to refill water bottles.  
Lockers:  We have spaced out available lockers for use.  Please leave the door open when finished so we know which lockers to clean.  Staff will be monitor and regularly cleaning locker areas of the bathroom, as well as other high-touch areas throughout the gym.
SUSPENDED SERVICES
Note that several services will be halted during the 1st phase of our reopening.  This includes suspension of:
Fuel Station.  No protein shakes products will be made at this time.  Protein drinks will be available in the cooler, as well as bars.
Child watch.  All child care sessions will be canceled indefinitely in order to abide by the safe physical distancing stipulations.
Sauna.  The locker rooms will only serve as bathrooms, washrooms, and changing rooms.  Selected shower stalls are available that also comply with physical distancing practices.  The sauna is not available during Phase 3.
Water bubbler (but refill available).  A new, touchless bottle filling station has been installed.  This can be used for bottle refills, but the water bubbler spout will not be available.  We do encourage members to bring a filled water bottle and a sweat towel for every gym visit.  Bottled water will be available for purchase at the front desk.
Note that Stow Fitness Center will continue to follow local officials' guidelines and adhere to any additional safety measures.