updated 9/19/2021
The Commonwealth lifted mask mandates on May 29th.  Stow Fitness Center will follow the State and CDC recommendations on this matter.
Per the CDC Guidelines, if you are not fully vaccinated and aged 2 or older, you should wear a mask in indoor public places.
Stow Fitness Center strongly encourages not-vaccinated gym visitors to continue to wear masks and as a courtesy to other gym patrons.  Vaccinated individuals are welcome to use the gym and classes without a mask. The CDC has stated that fully vaccinated people are at very low risk for serious infection and are less likely to have an asymptomatic infection or transmit SARS-CoV-2 to others. Information on getting the COVID-19 vaccine in Massachusetts can be found at
https://www.mass.gov/info-details/massachusetts-covid-19-vaccine-information
.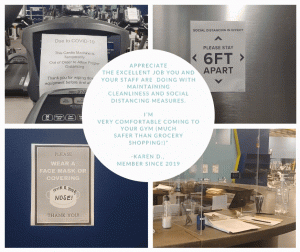 INDIVIDUAL RESPONSIBILITY   
We are an incredible wellness community and rely upon each individual to do their part in ensuring the wellbeing of our community.  We all have a personal responsibility to help protect one another and our community.  Please abide by Massachusetts mandates, show courtesy and awareness for others regarding comfortable distancing, and wipe down equipment after each use.  Additionally, follow the safety guidelines set by the CDC, including (but, not limited to):
Stay home if not feeling well, have a temperature, or sick with any symptoms – even a simple runny nose or cough.
Self-quarantine at home if you have been exposed to anyone with COVID-19.
Practice good hygiene and regularly wash your hands.
Wear a face mask if not fully vaccinated.
Bring a water bottle and a sweat towel.
Wipe down equipment before and after each use, including machines, weights, mats, and any other touch surface.  
RETURNING SERVICES
The Stow Fitness Team is evaluating the return of numerous services and amenities.  We will be working to bring back as many amenities as possible, but many will be returned over time (after May 29th) to ensure staffing, inventory, and operations.  Staffing, operations, and protocols are currently being reviewed to include the reopening of:
Fuel Station.  Protein shakes will return based on available inventory.  Limited menu items may be available as we transition to full menu offerings from the Fuel Station.  
Child watch.  All Massachusetts child care stipulations.  We are reviewing all requirements and working to organize our childwatch offerings ASAP.  Please look forward to future announcements and details.  
All Showers and Sauna.  The locker rooms will be completely open, including all showers, lockers, and saunas.  
Water Refill Station.  A new, touchless bottle filling station has been installed.  This can be used for bottle refills, but the water bubbler spout will not be available.  
The safety of our staff, members, and community is our top priority as we operate during the COVID-19 pandemic. Our team will follow the State of Massachusett's directives related to required mandates. We will work to keep members up-to-date with news and developments via email, our website, and our club's Facebook page.