All Workshops welcome Members and Non-Members.  Each program is suitable for all fitness levels and abilities.  Yoga mat and water are recommended.
Group Yoga Therapy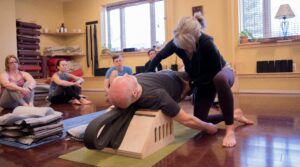 An unique, customized Yoga program is exclusively designed for each group participant, based on his/her individual needs. Participants have the benefit of supervision, progression and support in the community of a small group setting.  Limited to 8 participants.  Sign up at the front desk or call 978.897.5300.
Tuesdays, 1:30 - 2:40pm
March 3rd - April 14th (no class on March 31st)
$210 for 6 sessions
$45 for individual sessions
NOTE: Participants must fill out the Needs Evaluation and Questionnaire and Body Diagram, which will be provided after session enrollment.  This questionnaire must be completed and submitted to Cindy Boulter (cindyboulter@charter.net) one week prior to the course start date.  
Private Yoga Therapy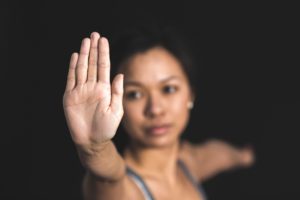 Yoga Therapy is about seeing clearly so we can then change habits in movement or whatever it is that is keeping us stuck.  Cindy works closely with the client to explore individual habits, breath and patterns of movement to co-design a personalized yoga/movement program to decrease pain, improve strength, flexibility, balance and overall ease.   Clients experience an increase level of energy, reduction in stress, increased sense of calm, event breathe patterns and a more optimistic life outlook.  
Individual private sessions can be arranged directly with Cindy Boulter (cindyboulter@charter.net).
Cindy Boulter, BSc., ERYT 500, ACE, SUP Yoga, Yoga Therapeutics
Cindy is committed to helping teachers, students and private clients expand their possibilities through education, movement and self-exploration. She has over 20 years of experience in the fitness industry as an instructor and international presenter, and over 16 years' experience teaching yoga and training yoga teachers. She holds a Bachelor of Science in Health Sciences, has studied extensively with numerous teachers and programs, including Baron Baptiste, Rolf Gates, Shiva Rae, Ana Forrest, Tom Myers, Bo Forbes, and Theresa Murphy. She has studied Yoga Therapeutics with Dr. Bo Forbes, is currently completing the three year IAYT certified Yoga Therapist Program with Susi Hately and is studying with Amy Mathews to become a Licensed Somatic Educator with the School of Mind Body Centering
Cindy's seminars and workshops have been presented throughout Canada, the US and Japan. She has assisted and taught classes at Kripalu for Bo's sessions on Yoga for Anxiety and Depression, and has led many 200 Hour Yoga Teacher Trainings over the last 6 years.
Her classes are mindful explorations of movement and stillness infused with a sense of humor.