All Workshops welcome Members and Non-Members.  Each program is suitable for all fitness levels and abilities.  Yoga mat and water are recommended.
5-week Yoga Therapy Series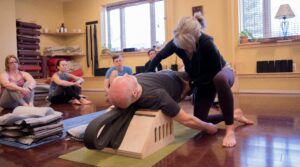 You can improve how you move and feel good at any age!
Experience the benefits of yoga therapy through this 5-week Small Group In-Person Series.  Each week, we will focus on a specific body region.  Reduce aches and pains.  Improve your quality of movement each week in this progressive series.
Tuesdays (In-Person and Zoom Sessions), 1:15 -  2:15pm
Jan 11 - Feb 8
5-week Series Fees: $90
Single Session Fee: $20
Register Now
To Register, filter Class options to find preferred class. Follow link to Member Portal. Click NAME and SELECT preferred class (5 Week Yoga Therapy-In Club or 5-Week Yoga Therapy-Zoom Only)
Private Yoga Therapy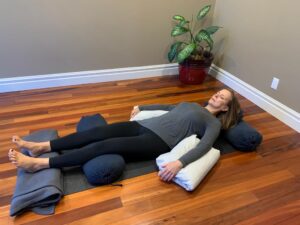 Yoga Therapy is about seeing clearly so we can then change habits in movement or whatever it is that is keeping us stuck.  Cindy works closely with the client to explore individual habits, breath, and patterns of movement to co-design a personalized yoga/movement program to decrease pain, improve strength, flexibility, balance, and overall ease.   Clients experience an increased level of energy, reduction in stress, increased sense of calm, even breathing patterns, and a more optimistic life outlook.  
Individual private sessions can be arranged directly with Cindy Boulter (cindyboulter@charter.net).
Cindy Boulter, BSc., ERYT 500, ACE, SUP Yoga, Yoga Therapeutics
Cindy is committed to helping teachers, students and private clients expand their possibilities through education, movement and self-exploration. She has over 20 years of experience in the fitness industry as an instructor and international presenter, and over 16 years' experience teaching yoga and training yoga teachers. She holds a Bachelor of Science in Health Sciences, has studied extensively with numerous teachers and programs, including Baron Baptiste, Rolf Gates, Shiva Rae, Ana Forrest, Tom Myers, Bo Forbes, and Theresa Murphy. She has studied Yoga Therapeutics with Dr. Bo Forbes, is currently completing the three year IAYT certified Yoga Therapist Program with Susi Hately and is studying with Amy Mathews to become a Licensed Somatic Educator with the School of Mind Body Centering
Cindy's seminars and workshops have been presented throughout Canada, the US and Japan. She has assisted and taught classes at Kripalu for Bo's sessions on Yoga for Anxiety and Depression, and has led many 200 Hour Yoga Teacher Trainings over the last 6 years.
Her classes are mindful explorations of movement and stillness infused with a sense of humor.